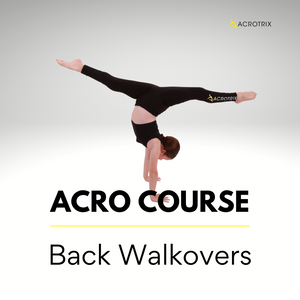 Don't get stuck on your Back Walkover! 

Learn how to Back Walkover, from anywhere! At home, in the studio, at the gym, anywhere with safe environment, and supervision.
This course will take you from knowing nothing about the Back Walkover, to having all the tools in the locker to be able to perform this skill with ease.
Included:
✓ Introduction to the Back Walkover
✓ Strength & Conditioning for the Back Walkover

✓ Back Walkover drills and preparations

✓ Getting Help from others & Tips

✓ Final Skill & Technique

✓ Variations of the Back Walkover
Get started with this amazing, easy-to-follow course!