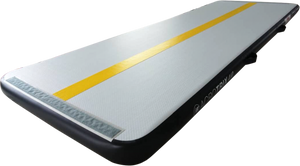 Our ACROTRIX AIR Track is perfect for training tumbling, acro, jumps, leaps and more.

Place it in a large living room space, in the garden, or use in the studio or gym. It inflates in only seconds for the smaller tracks, and minutes for the larger tracks. Barely any space is used when deflated and rolled!

ACROTRIX AIR Tracks are manufactured with 15years of experience, and designed to an exceptionally high standard, including our signature yellow mark.